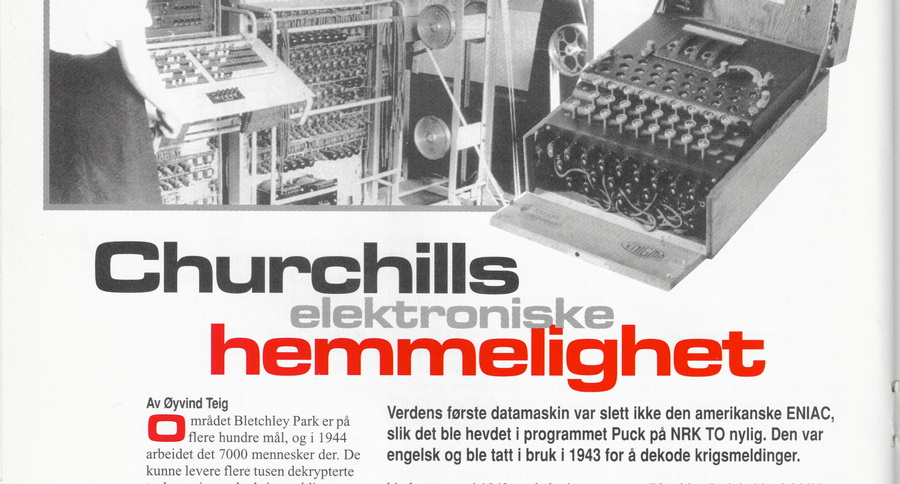 I forbindelse med filmen The Imitation Game (2014, regi Morten Tyldum) [1], basert på boka Alan Turing: The Enigma av Andrew Hodges [2] republiserer jeg nå artikkelen Churchills elektroniske hemmelighet fra Datatid 13-14/96 [3]. Jeg hadde vært fascinert av Alan Turing siden jeg leste boka til Hodges da den kom som "Vintage edition" i 1992 (førsteutgave kom i 1983).
Filmen er viktig fordi det ensidige heltebildet vi har dannet oss med f.eks. Linge-karene og Max Manus etter min mening trenger å nyanseres. Et annet bidrag til en slik nyansering er Copenhagen som viser et møte Werner Heisenberg hadde med Niels Bohr i København i 1941: om tungtvannet hadde kommet fram til Tyskland: hva så? Copenhagen utvikler flere scenarier om hva som kan ha foregått i hodet på Heisenberg. Men der hvor aksjoner tydeligvis gir svar som også skal passe med dramatiseringen, etterlater tankearbeid (eller bevisst utelatelse av det) noe som er vanskeligere å ta tak i. Begge filmene er hermed anbefalt! (Copenhagen gikk også som teater på Filmteateret i 2002 og P2 Radioteatret i 2011)
The Guardian gir likevel The Imitation Game kritiske bemerkninger – en av dem alvorlig, se [5]. Denne filmen er heller ikke uten dramatiske virkemidler som klæsjer med virkeligheten.
Og forresten, NRK-serien "Kampen om tungtvannet" (startet januar 2015) fortsetter tradisjonen med det ensidige helte/skurke-bildet som vi ikke trenger. Tyskerne kom nok ikke langt med utvikling av sitt "uranprojekt" [6], sjøl om det tydeligvis var noe der [7].
Men det jeg ønsker meg er et nyansert heltebilde, også etter dramatisering – når man ikke skal lage James Bond, men basere seg på virkelige hendelser. Både krigsseilerne som Jon Michelet beskriver og The Imitation Game bidrar til dette – sjøl om virkeligheten ofte er mer fortolkbar enn vi liker å innrømme.
Om du ikke tok den der oppe, les gjerne artikkelen min her.
Jeg kodet også en turing-maskin i Java på den tida: http://www.teigfam.net/oyvind/tm/tm.html