Jeg tror dette notatet bare gjelder for de som setter eggekartongen uten lokk rett inn i kjøleskapdøra, og at det er begrenset med plass der. Siden vi likevel, antakelig ganske unødvendig, bruker kjøleskapet til egg.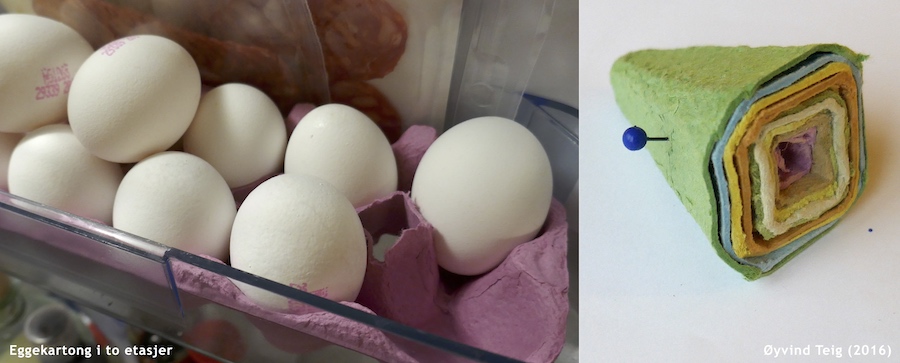 Egg til butikken og fra den og hjem ville lett ha blitt ødelagt om de ikke var pakket i en eggekartong (vi sier da vel "egg-kartong"?) Mellom eggene, midt i kartongen, stikker det opp avstivere som innvendige søyler mellom eggene.
Men eggekartongavstiverne kommer fort i veien om du setter hele kartongen med egg inn i kjøleskapet – og du kjøper nye egg før det er tomt. Og det gjør man da.
For å lage stabil plass til å legge (maksimum fem) egg som blir til overs i "andre etasje", oppå de andre, kan du bare skjære bort toppen på avstiverne! Og bruke kartongen om igjen så lenge den ser pen ut. Se bildet. Det tok meg minst førti år å komme til denne erkjennelsen!
(Egentlig ble det vel bare en og en halv etasje, men pytt, pytt. Eggekartong-etasje-teori er vel ikke så høytflygende.)
Forresten, det kan bli mange fine, avskårne topper. Du kan jo sette dem sammen, så vet du hvor du har nåla for å stikke hull i eggene før du koker dem til søndagsfrokosten.
English: Egg carton with two heights  to store extra eggs in the fridge. Just cut the tops off the inner stiffeners(?) or columns. Since we anyhow, rather not necessary, are using the fridge for eggs.